India Impressions And The SIM Card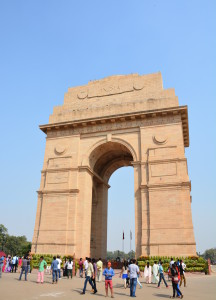 Many Indians.
I went to India Gate. No impression particularly.
Walk around delhi. Dirty. Bad smell. Danger. Violent people.
I went to Nehri Place which said indian "Akihabara". They recommended me laptops many times. I don't neet.
Breakfast was curry with something. Launch is McDonalds. Dinner is Domino pizza. I love america.
This hotel is a little noisy. Someone played music in midnight with large volume. It is hard to me. I'll use earplugs.
Seriously India is best place ever visited. Very tired.
How to configure Airtel SIM
I had believed that it could use immediately after an activation without any configuration, but it is not.
We probably need to configure APN (Access Point Name) .
I configured it with my Xperia Z2, but other machines might be able to configure almost same way.
(1) Let's activate as I wrote yesterday. (Insert SIM. Turn off roaming and Wifi. Call 59059 and answer the questions)
(2) Open [Setting] > [More…] -> [Mobile networks]
(3) Make sure that airtel is selected, It could from [Service providers] at (2)
(4) Open [Access Point Names] at (2)
(5) Tap add button, and enter below (Any other options than below should be keep in initial state. Maybe.)
Name: Airtel Internet
APN: airtelgprs.com
Proxy: 202.56.231.117
Port: 8080
MCC: 404 (Entered initially in my case)
MNC: 10 (Entered initially in my case)
Authentication type: Not set
APN type: default
(6) Save. I could use network with them. If you cannot, try rebooting.
Below is my screenshots of setting screens. (But it is in Japanese)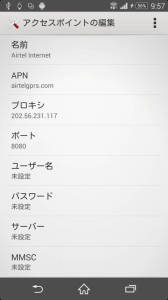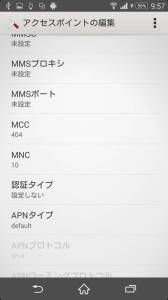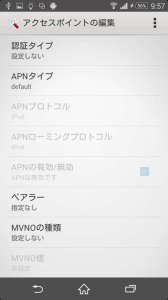 Probably there is information about this configuration in airtel homepage or elsewhere, but could not find them. I found this config way with googling and try many partial information.
Some informaion says they send about configuration via SMS. But I could not receive them.